Morocco is an increasingly popular travel destination with something for every taste and budget. Once you visit it, you will want to return again and again. The country has so much to offer, from a rich culture to breathtaking landscapes, delicious food, and the friendliest people you can imagine. You could easily spend a month there and never get travel fatigue. However, if your vacation time is limited, this Morocco itinerary for 7 days will make for an unforgettable trip.
A week-long holiday in Morocco will be one of the highlights of your travels. The North African country abounds in unique sightseeing spots, large towns with impressive architecture, and small, cozy villages with hospitable locals. You can venture from the Sahara desert to the Atlantic Ocean across the majestic Atlas mountains and experience a diverse and beautiful culture.
We know that a seven-day trip to Morocco may not be enough to cover everything the country has to offer. So, we suggest three ideas for a 7-day itinerary in Morocco for you to choose from or combine depending on what you want to do and see.
Dive deep into this travel guide to Morocco and prepare for an immersive experience in one of the best places to travel worldwide!
Is 7 days enough for Morocco?
Seven days in Morocco is enough to explore many of the country's beautiful sights unrushed and leave yearning to return. In a week, you can tour the Imperial cities at your own pace and still have time for trekking in the Atlas mountains. Visit the sunny ocean coast and dive deep inland for a journey to the Sahara desert. Alternatively, you can travel to less-visited cities and villages like Imlil to have a taste of authentic Moroccan culture.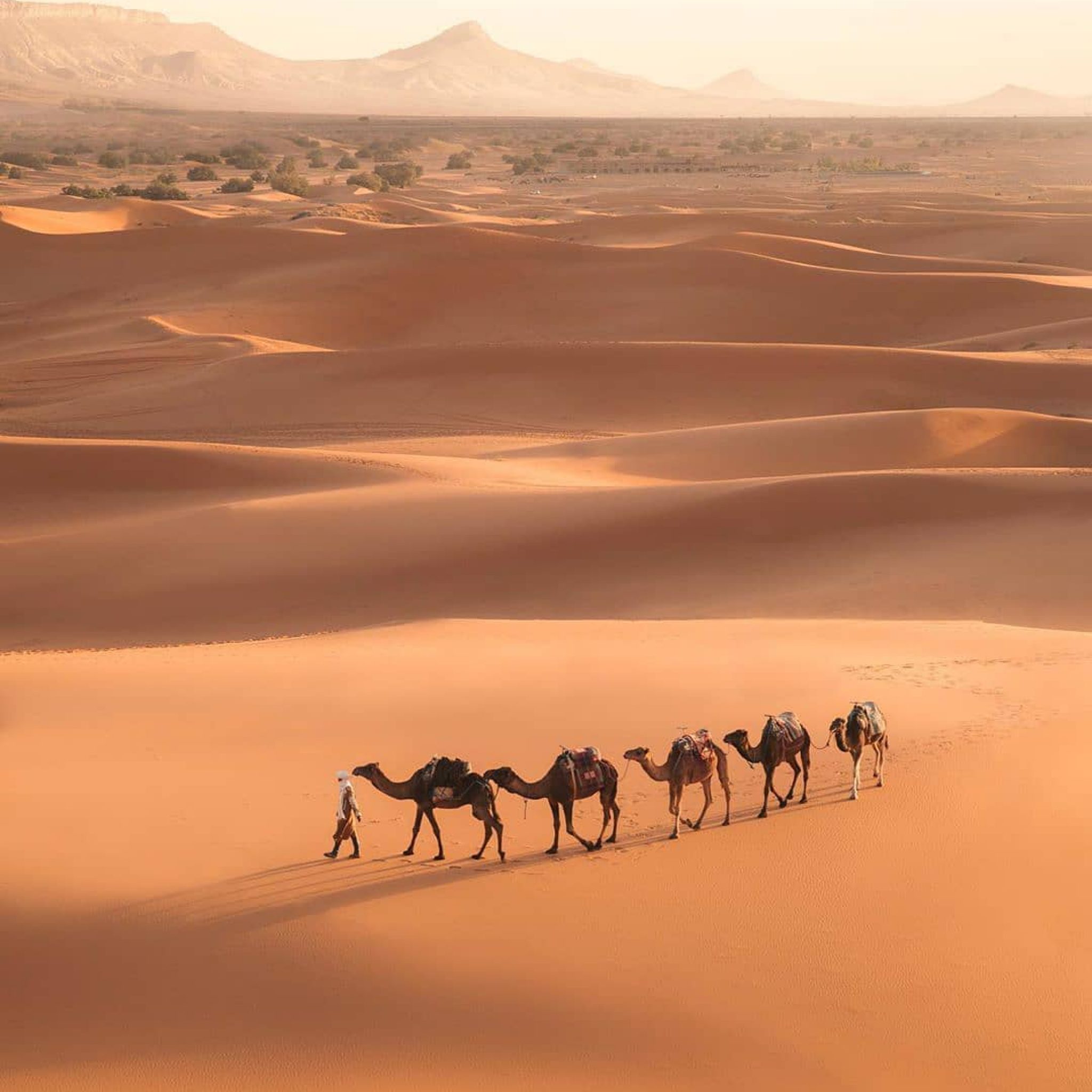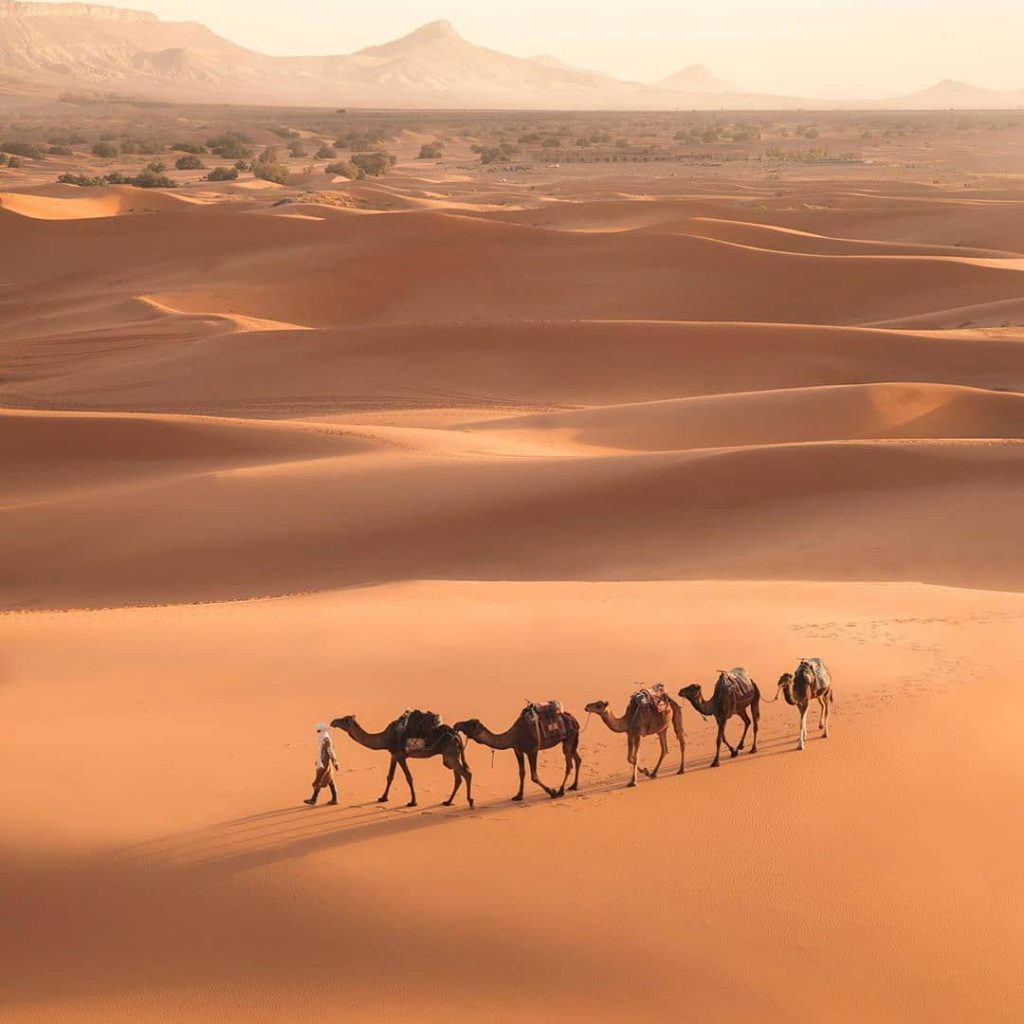 Is it worth going to Morocco for a week?
Morocco has a rich offer of things to do and see. Some people go there for a week and end up staying for a month. Others return annually because there's so much left to explore. A week in Morocco is just enough to discover the vibrant local culture and explore must-see sights and attractions, some unique worldwide.
How much money do I need for 7 days in Morocco?
Morocco is an affordable travel destination for most travelers. Depending on what you want to do, you may need to spend around $70-$80 per person per day. This should cover travel costs. The North African country is famous for hitchhiking, and camping suits travelers on a budget. However, if you prefer luxurious vacations, Morocco has you covered with high-end hotel resorts, fine dining establishments, and anything a lavish lifestyle can offer.
What to do in Morocco for a week
Spending a week in Morocco will never leave you feeling bored. Past visitors speak of a nearly endless list of things to do in Morocco, including:
Driving through the Atlas Mountains.
Roam along the ocean coast.
Visit popular and unique cities.
Explore mosques, palaces, riads, and medinas.
What to see in Morocco in 7 days?
Morocco is a captivating country ripe for exploration with stunning sightseeing spots, such as:
Morocco's imperial cities: Rabat, Marrakesh, Fez, and Meknes.
Rustic mountain villages like Imlil
Ocean-side towns like Casablanca and Essaouira
The majestic sand dunes in the Sahara desert
Visiting Morocco is ideal in 7-day trips that will take you across the country from the Sahara desert through the Atlas mountains and to the Atlantic Ocean. Find examples below with all the details you need.
Morocco Itinerary 7 days: Marrakech & The Sahara Desert
The Sahara desert is a must-see attraction at least once in your lifetime, and Morocco is the ideal place for this journey. You can rent a car, hitchhike, or use buses to move in this area of South Morocco. However, the most recommended option is to book a tour and have locals show you around.
Here's a 7-day itinerary that will take you from Marrakech to the Sahara desert and back to the imperial city.
Day 1: Arrive in Marrakech
Marrakech is Morocco's most popular city and tourist destination, combining the rich Moroccan culture with modern amenities. After arrival, take the time to immerse yourself in the unique local vibe.
Explore the medieval medina hosting Morocco's largest traditional market (souks). The heart of the city is full of artisans, merchants, and restaurants serving delicious local cuisine. Shop for authentic tapestries and leather bags, and try traditional sweets and pastries. End the day with a refreshing Moroccan fruit juice in the Jemaa el Fna Square.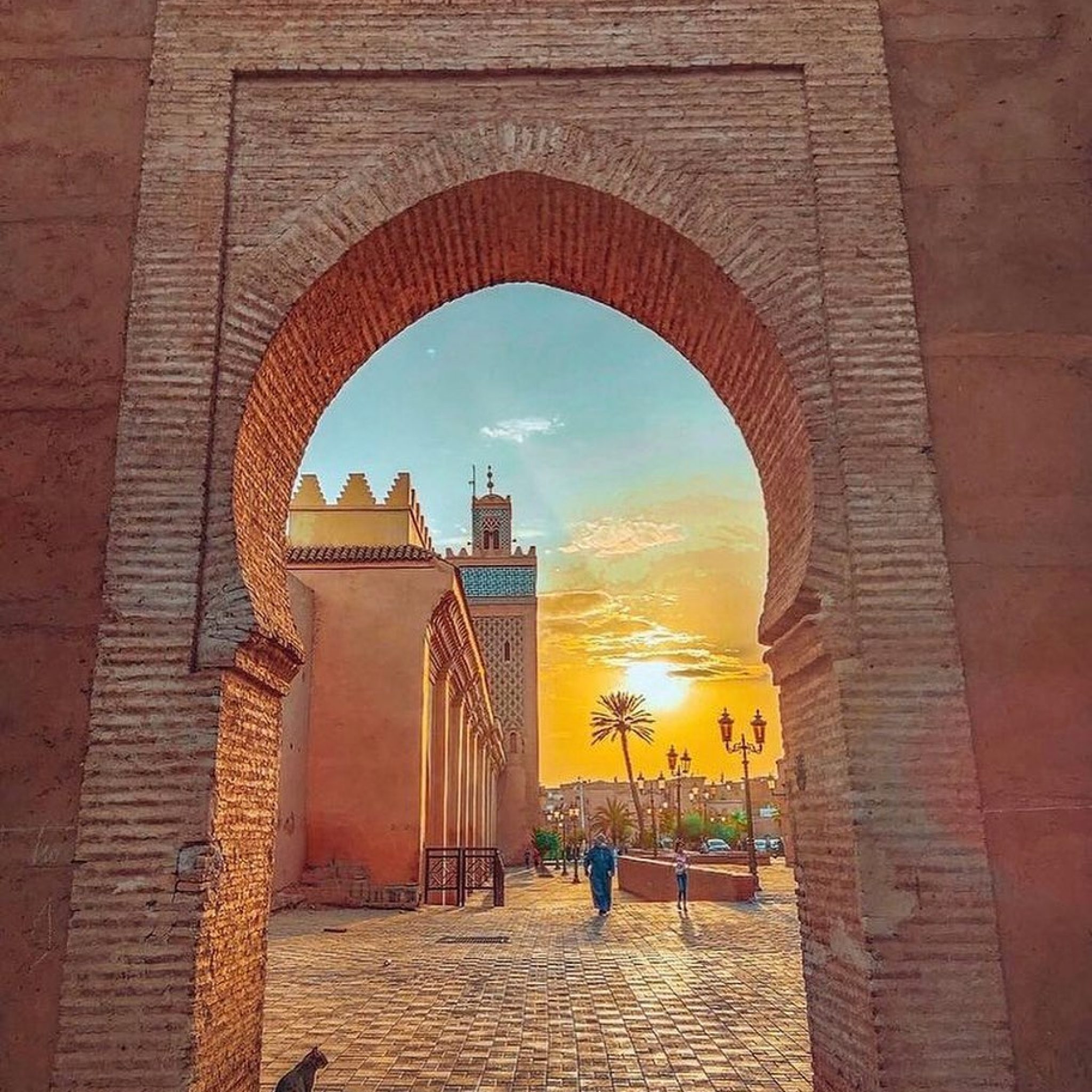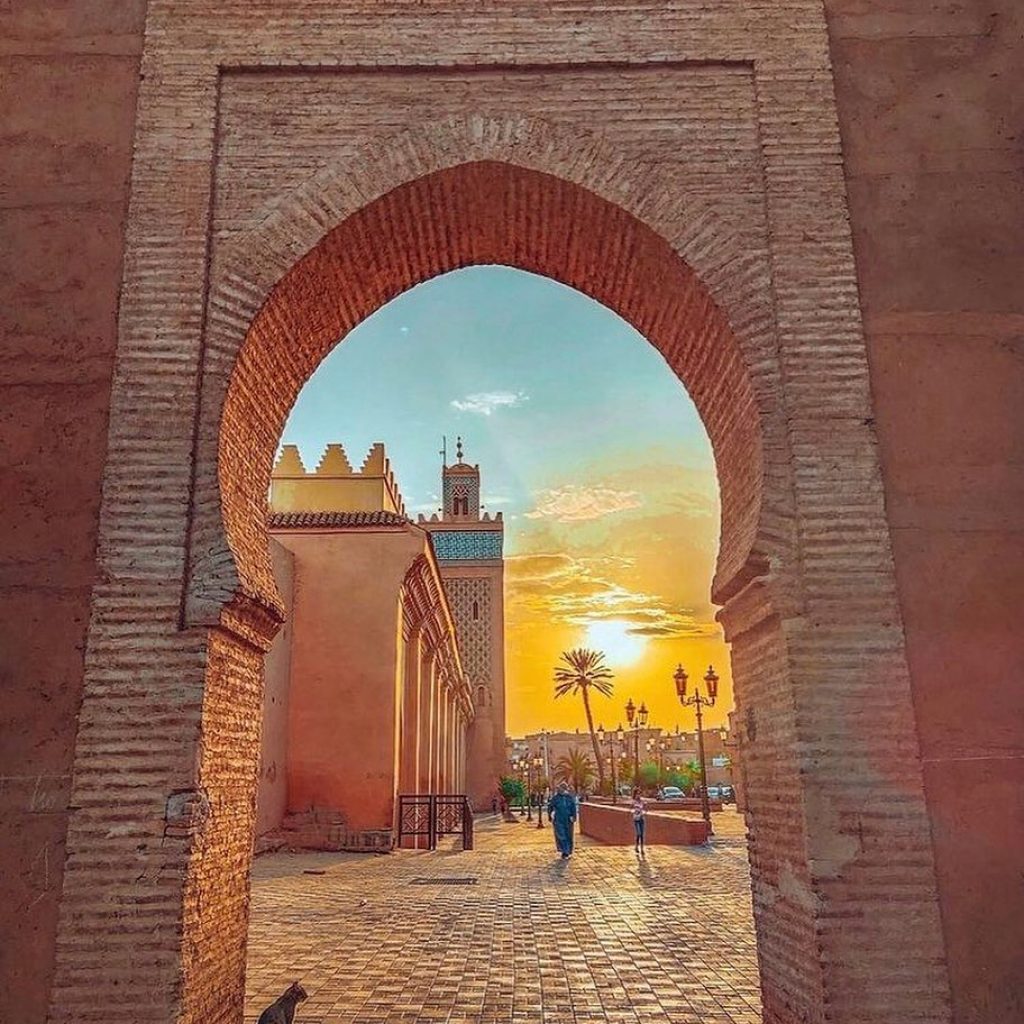 Day 2: Explore Marrakech
Assuming you booked an early morning departure toward the Sahara desert, you may have a full day and night to spend in Marrakech before departing for the sand dunes. Use this time to visit iconic sights in Marrakech, such as the Jemaa el Fna Square, the Jardin Majorelle botanical garden, and the Saadian tombs. Enjoy an evening walk and maybe find a rooftop to see the city shimmering in the sunset light as the locals go to pray in the towering Kutubiyya Mosque.
Day 3: From Marrakech, drive through the Atlas Mountains to explore Ait Ben Haddou and arrive in Ouarzazate city
A trip by car from Marrakech to the Sahara desert will take you through the stunning Atlas mountains. Along the way, you will pass through the breathtaking Tizi n'Tichka mountain pass at an altitude of 2,260m. This route will then take you down to the Ounila Valley, where you will find the glorious Ait Ben Haddou – an ancient fortified mud-brick village declared a UNESCO World Heritage Site.
Driving east for half an hour from Ait Ben Haddou will take you to Ouarzazate, known as the Gateway to the Sahara. This old city is a fabulous display of red-earth, North African architecture made famous by many Hollywood movies that chose it as a filming location. You can spend the night in Ouarzazate to prepare for the journey's second half.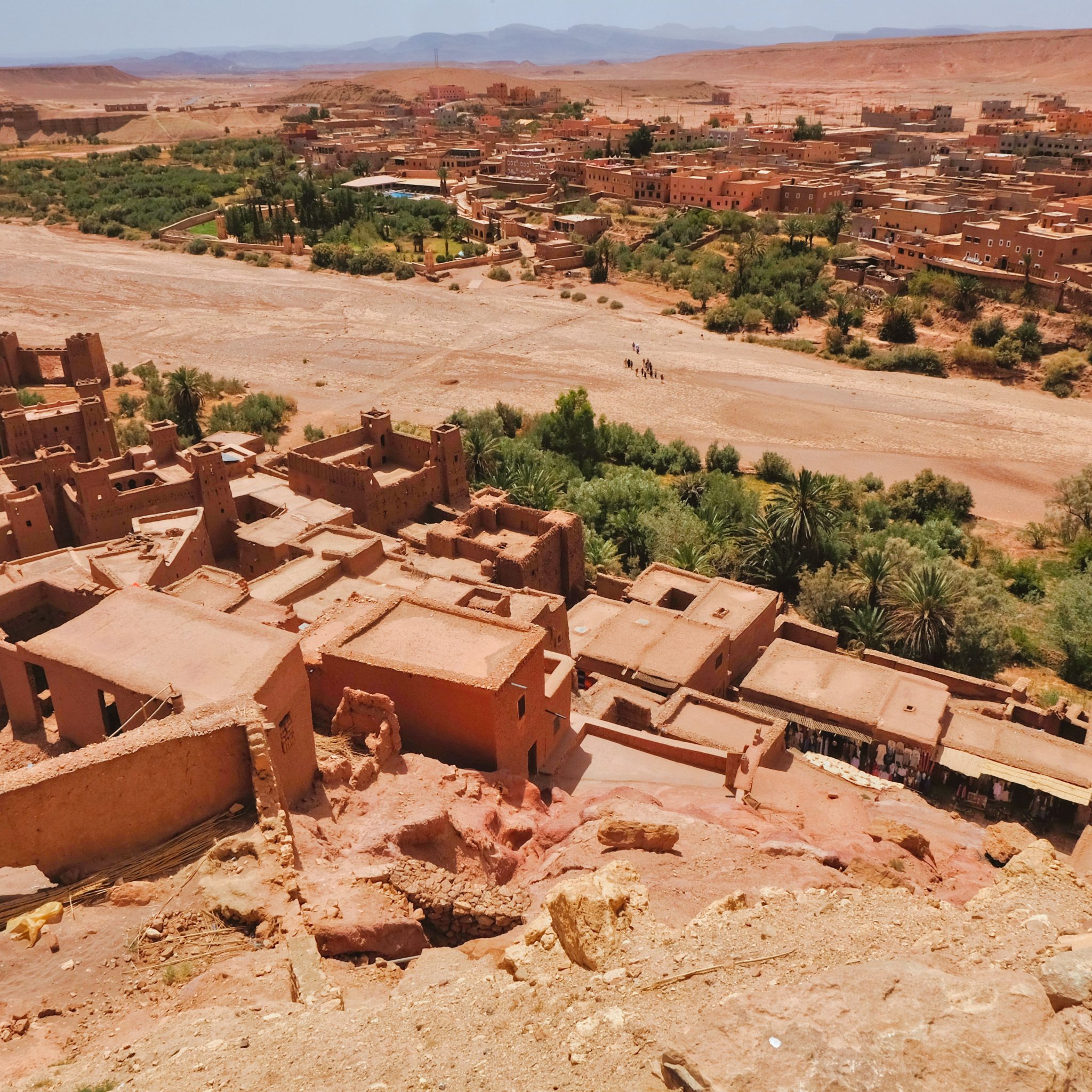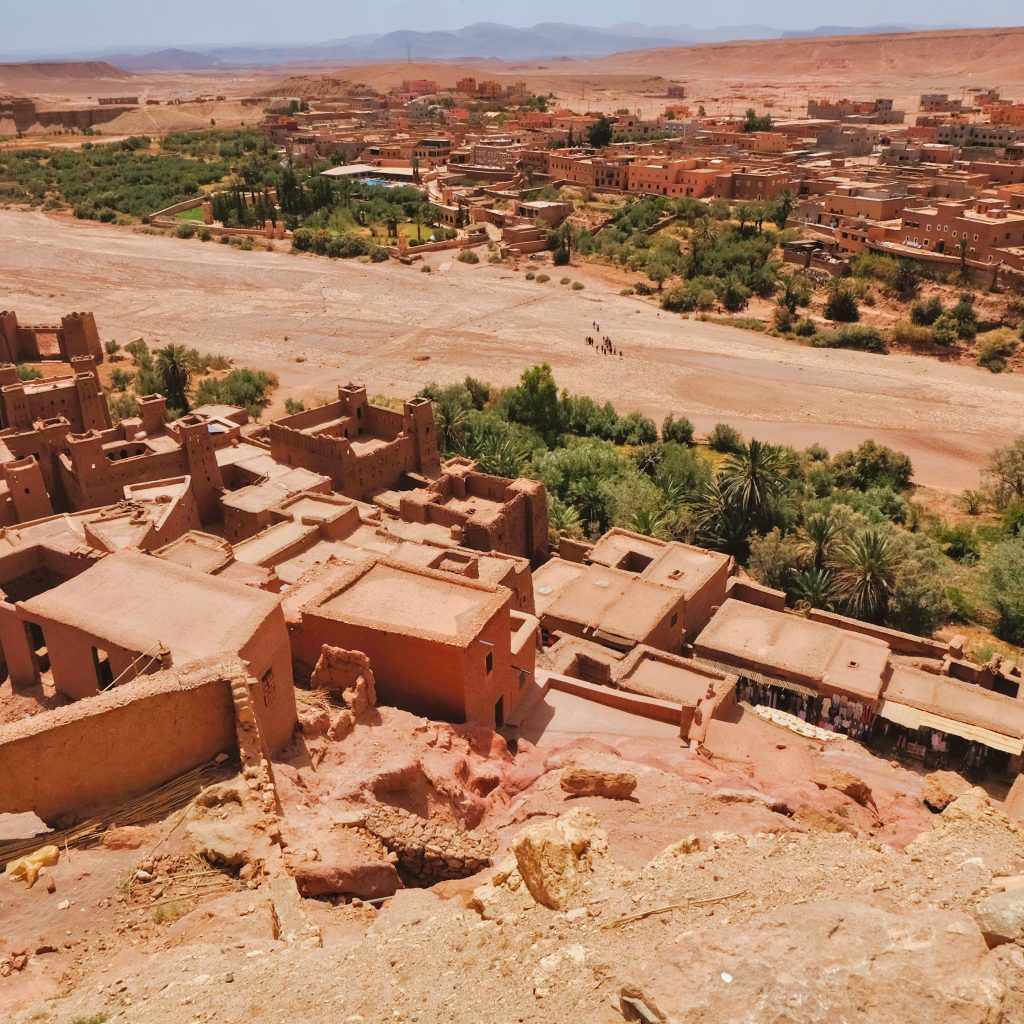 Day 4: From Ouarzazate -> Todra Gorge / Dades Valley -> Merzouga / Erg Chebbi
Leaving Ouarzazate in the morning will allow you to visit the remarkable Todra Gorges, with its colossal cliffs standing 300 meters high. Next, you will pass through the eye-catching Dades Valley on a popular road, also known as "The Road of the Thousand Kasbahs."
Your next destination should be Merzouga, the largest city near the Saharan sand dunes. However, there are plenty of smaller towns and villages along the way where you can stop for a delicious traditional lunch.
In Merzouga, you will find plenty of locals organizing short tours into the desert. Hop on a camel and go for a two-hour ride outside the city to see the famous Erg Chebbi sand dunes. Many tourists come here for sandboarding and to snap selfies with the incredible sunsets.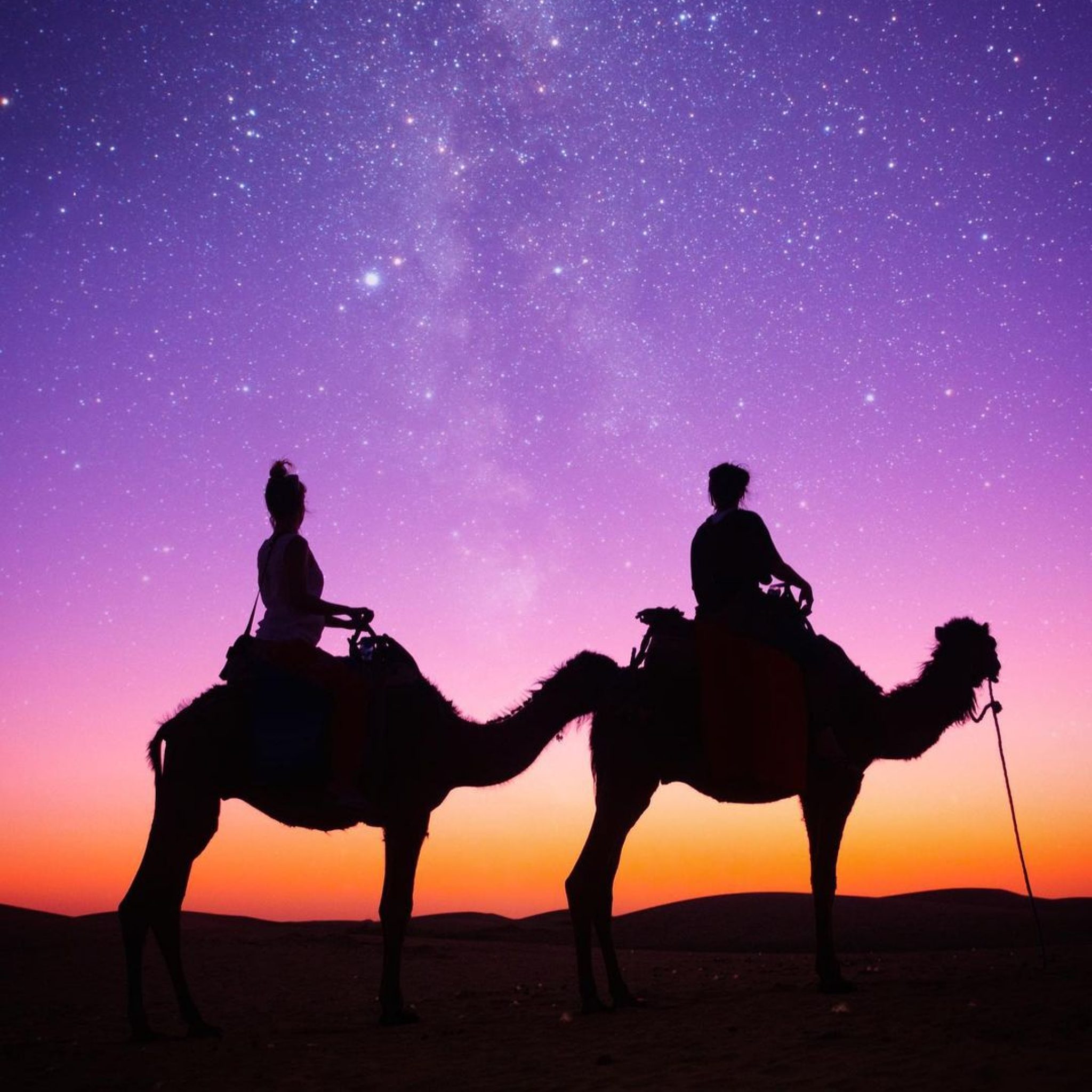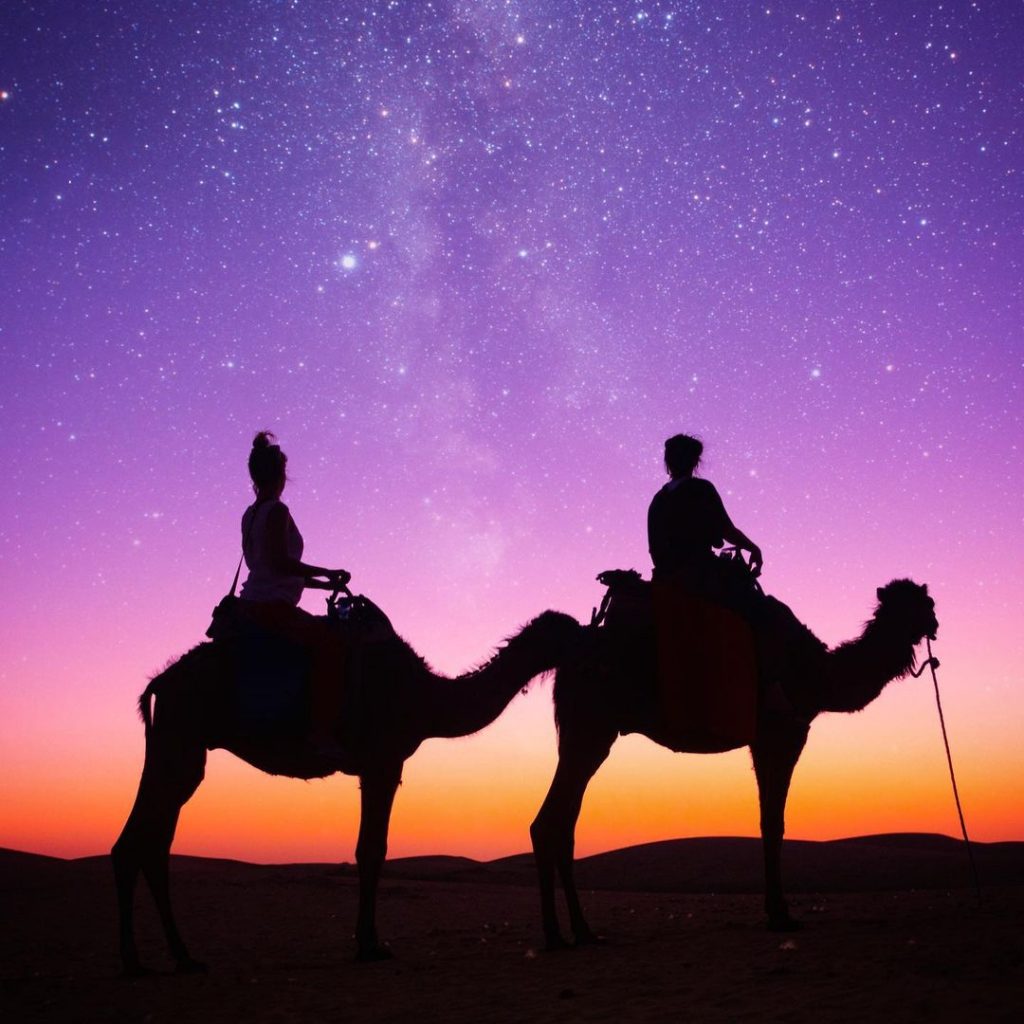 Day 5: Sahara Desert
If you have a more adventurous spirit, you can skip accommodation in Merzouga and go for an overnight trip deeper into the Sahara desert. Typically, a local guide tour will include transportation using camels and accommodation in a tent, with dinner and breakfast included. This option will allow you to experience the North African desert closely and spend the night among the silent sand dunes far from civilization.
Day 6: Back To Marrakech
Traveling back to Marrakech will take you through the beautiful Rose Valley, a fertile area known for its apricot orchards and rose plantations. You will pass through the Atlas Mountains again before reaching Marrakech for a well-deserved rest.
Day 7: Depart Morocco from Marrakech
Stop in the medina for some souvenirs before departing for the airport. Marrakesh is served by the Marrakesh Menara International Airport, accommodating flights from and to Europe, Casablanca, and nearby countries. It is located only 6 km from the city, and you can use public buses or a taxi to get there.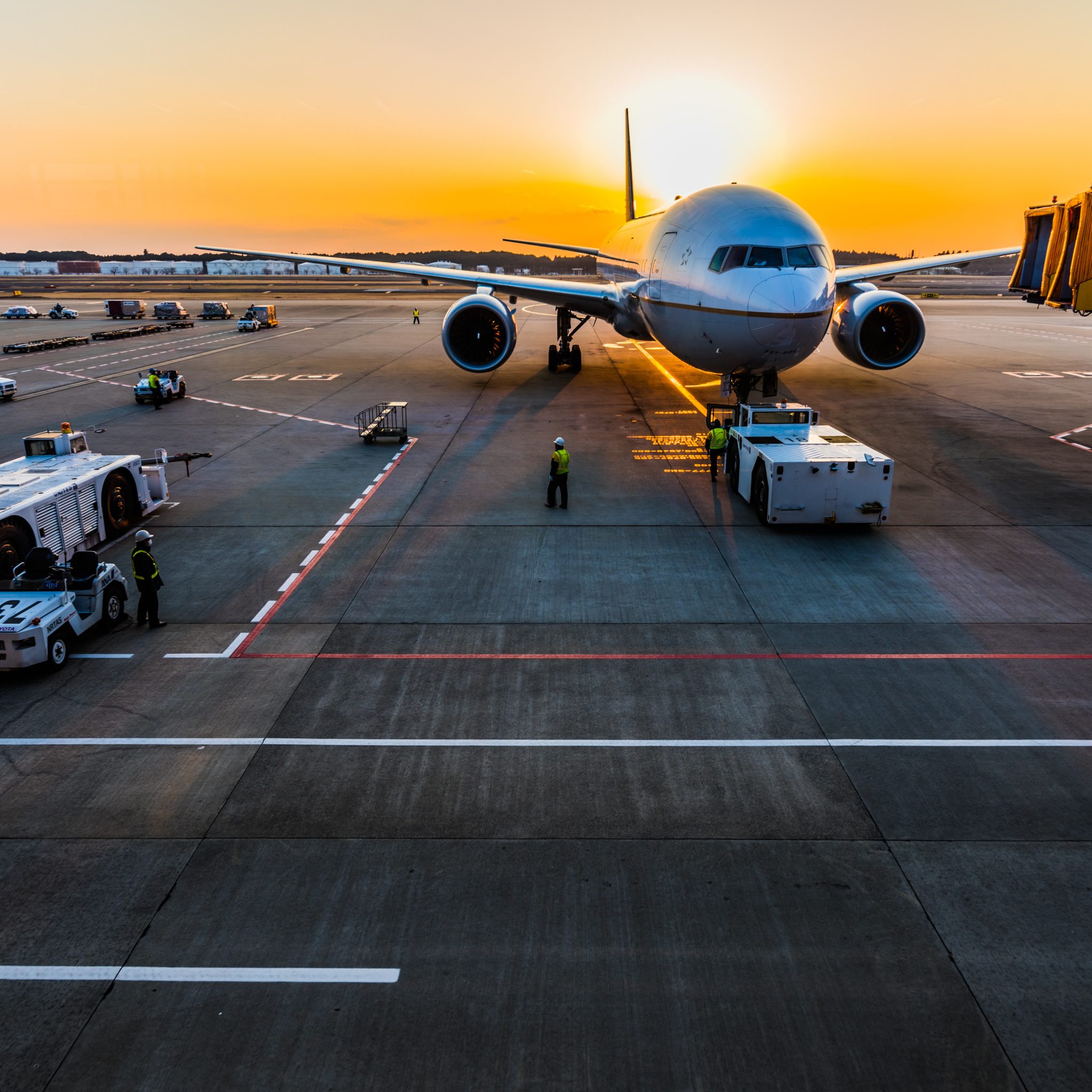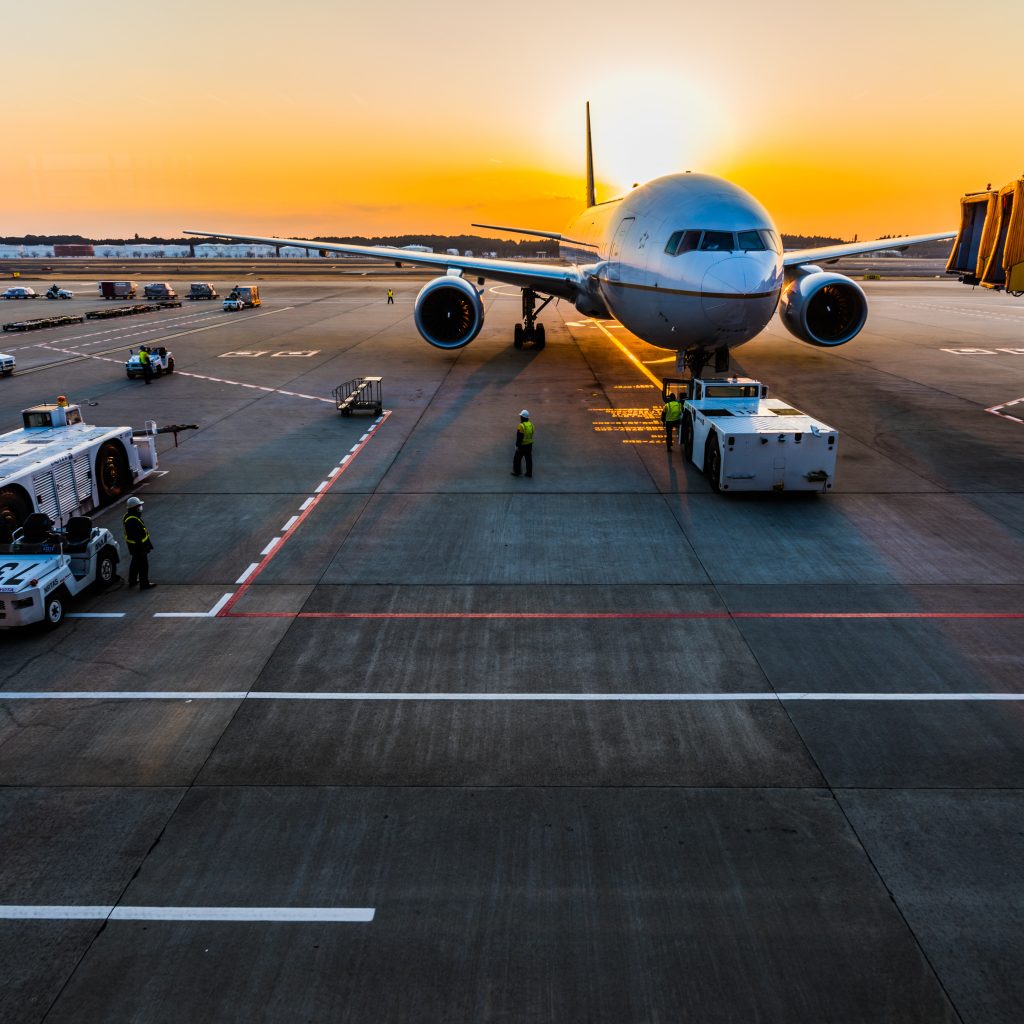 Whether you are a historical architecture buff or prefer city life to nature outings, a tour of the Imperial Cities in Morocco will come right down your alley. This circuit is the ideal vacation plan for discovering the rich Moroccan culture across the vast North African country. You will get to visit important landmarks, learn more about traditional art and practices, and enjoy a firsthand experience of the vibrant and unique Moroccan lifestyle.
Casablanca – Rabat – Meknas – Fes
Start your tour early in the morning in majestic Casablanca, where you can visit the impressive Hassan 2 Mosque and chic Anfa Palace. Next, head to the country's capital, Rabat, which is only an hour's drive up the coast. Stop for lunch and take a city stroll to see the Kasbah of the Oudayas, the Hassan Tower, or the Mohamed V mausoleum. Leave Rabat to travel inland to Meknes, another stupendous Moroccan imperial city. Here, you should visit the mausoleum of Moulay Ismaïl, one of the country's few religious monuments accessible to non-Muslims. On your way to Fes, stop to see the Roman ruins of Volubilis, a remarkable testament to the country's diverse history. Dinner and accommodation in Fez.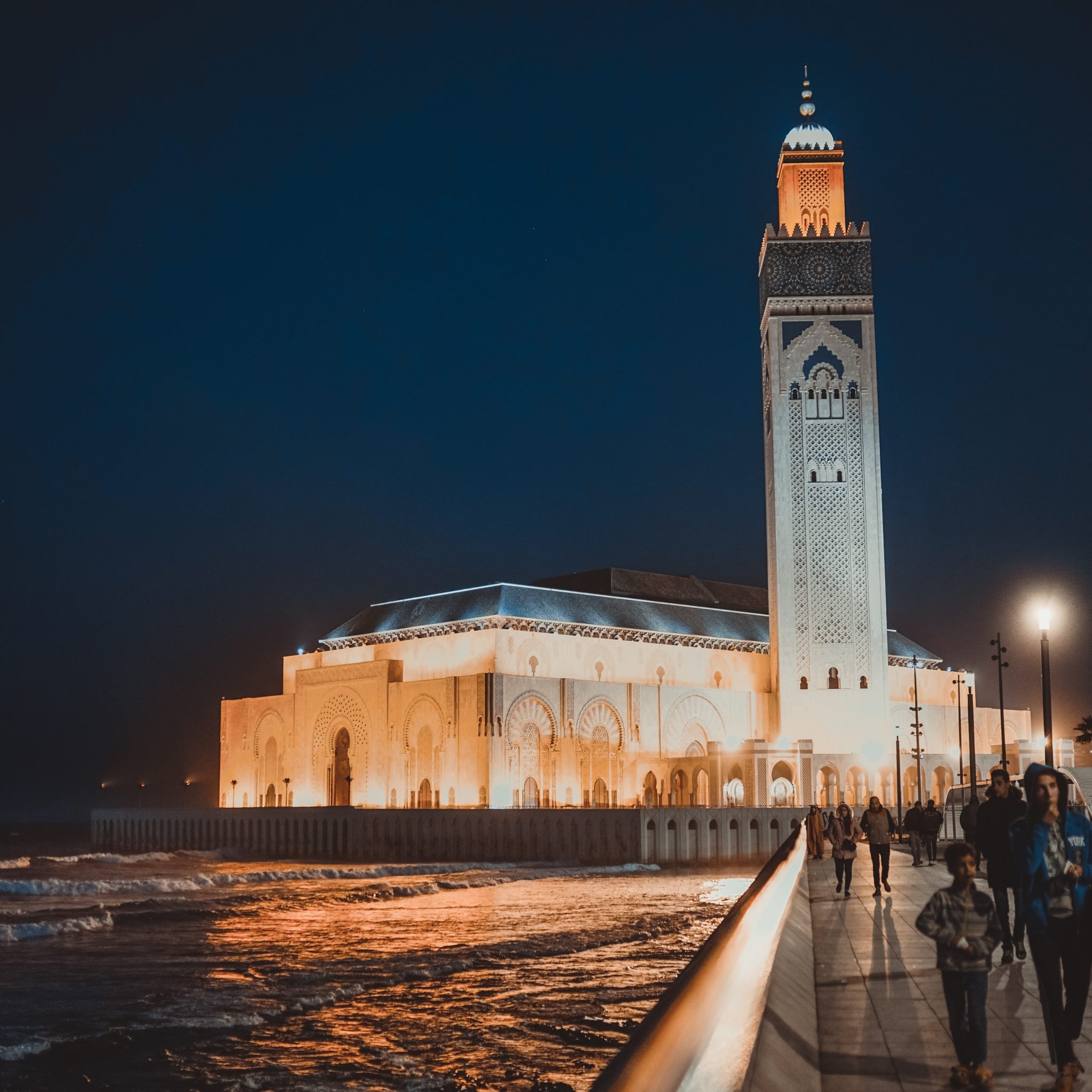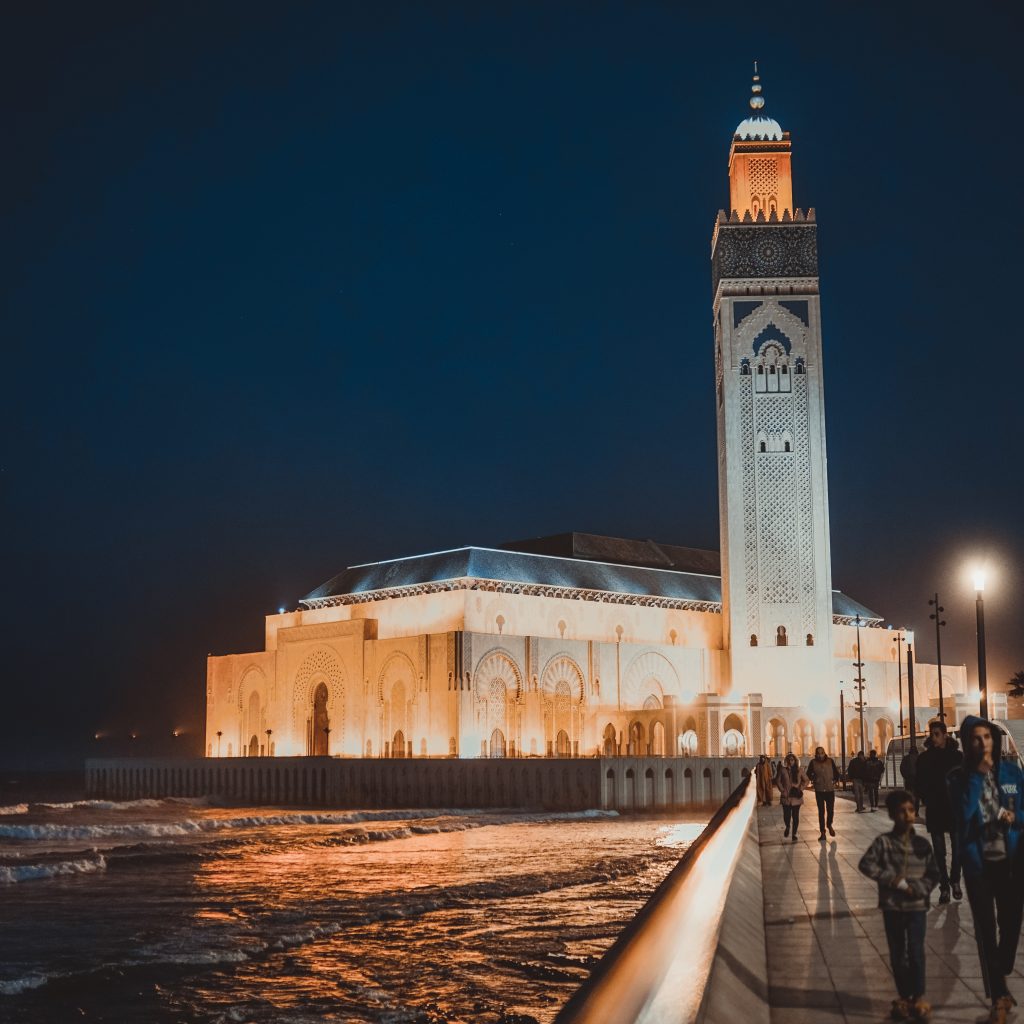 Fes
Many regard Fes as Morocco's cultural capital, a lively city where ancient, well-kept traditions blend with modern innovations. The city is so beautiful, it deserves a full day of your trip. Start with a tour of the old medina, the heart of Moroccan culture, and a UNESCO World Heritage Site. Visit the Bou Inania Madrasa, an iconic religious building, the Royal Palace (Dar Al-Makhzen), and shop for authentic Moroccan rugs, leather, and other artisanal goods in the maze-like souks.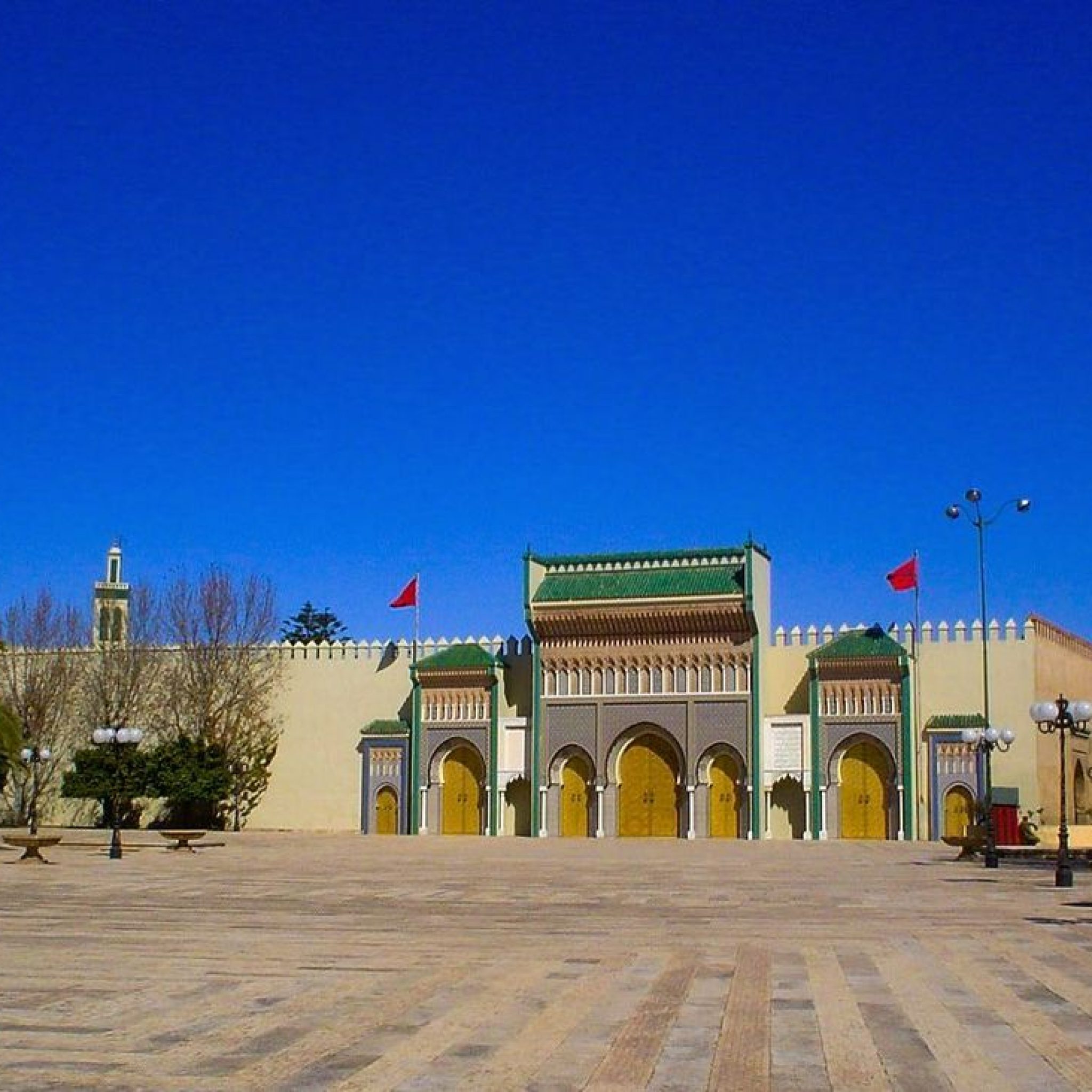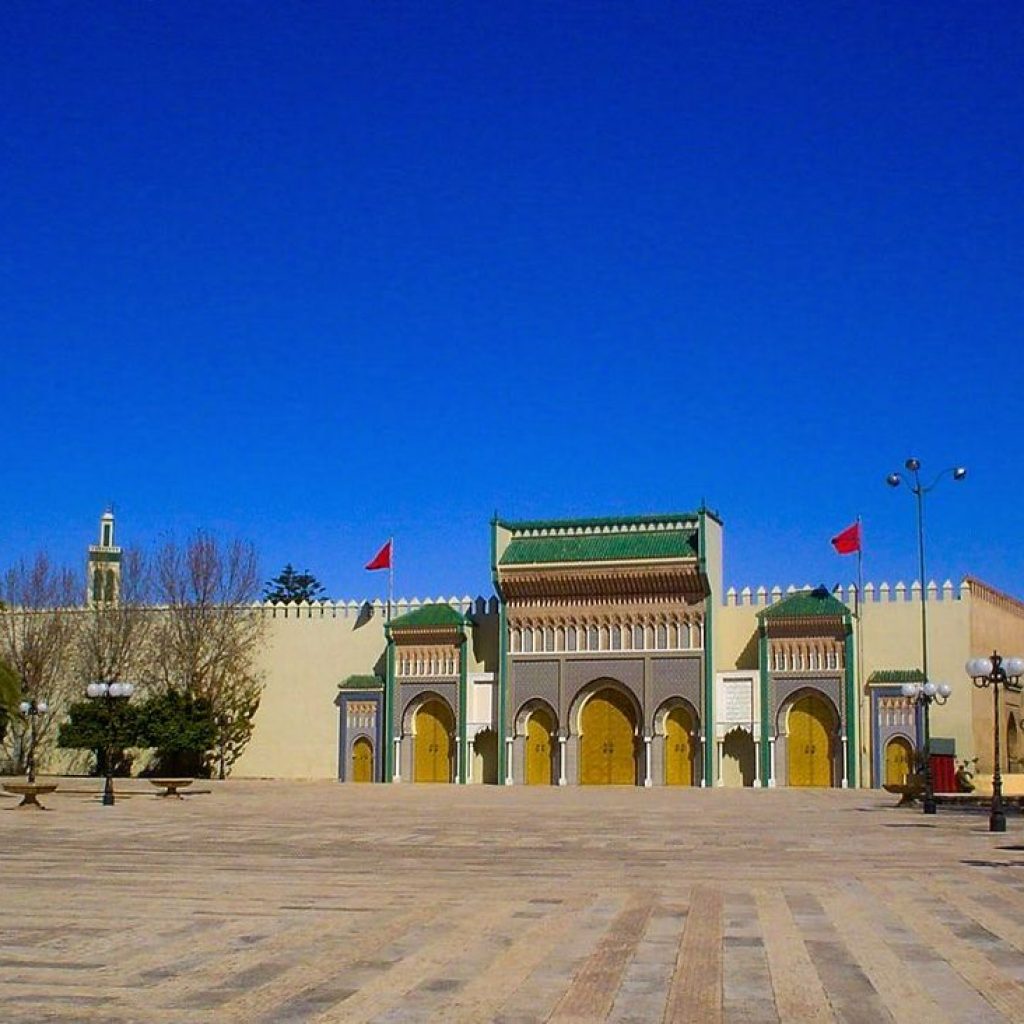 Fes – Ifrane – Midelt – Ziz Valley – Merzouga desert
Have an early breakfast and hit the road toward the Merzouga desert. On the way, you will see many changes in beautiful landscapes. As you travel through the Atlas mountains, you will reach Ifrane, a glamorous ski resort located at an elevation of 1,665 m. Next, you will carve your way through the Zad mountain pass to reach Midelt, a commercial center ideal for your lunch break. Spend the afternoon crossing the beautiful Ziz valley dotted with palm trees before reaching the Erg Chebbi sand dunes in the Merzouga desert. Hire a local tour for a short desert trip and end your day with a traditional tajine dinner in a cozy desert campsite.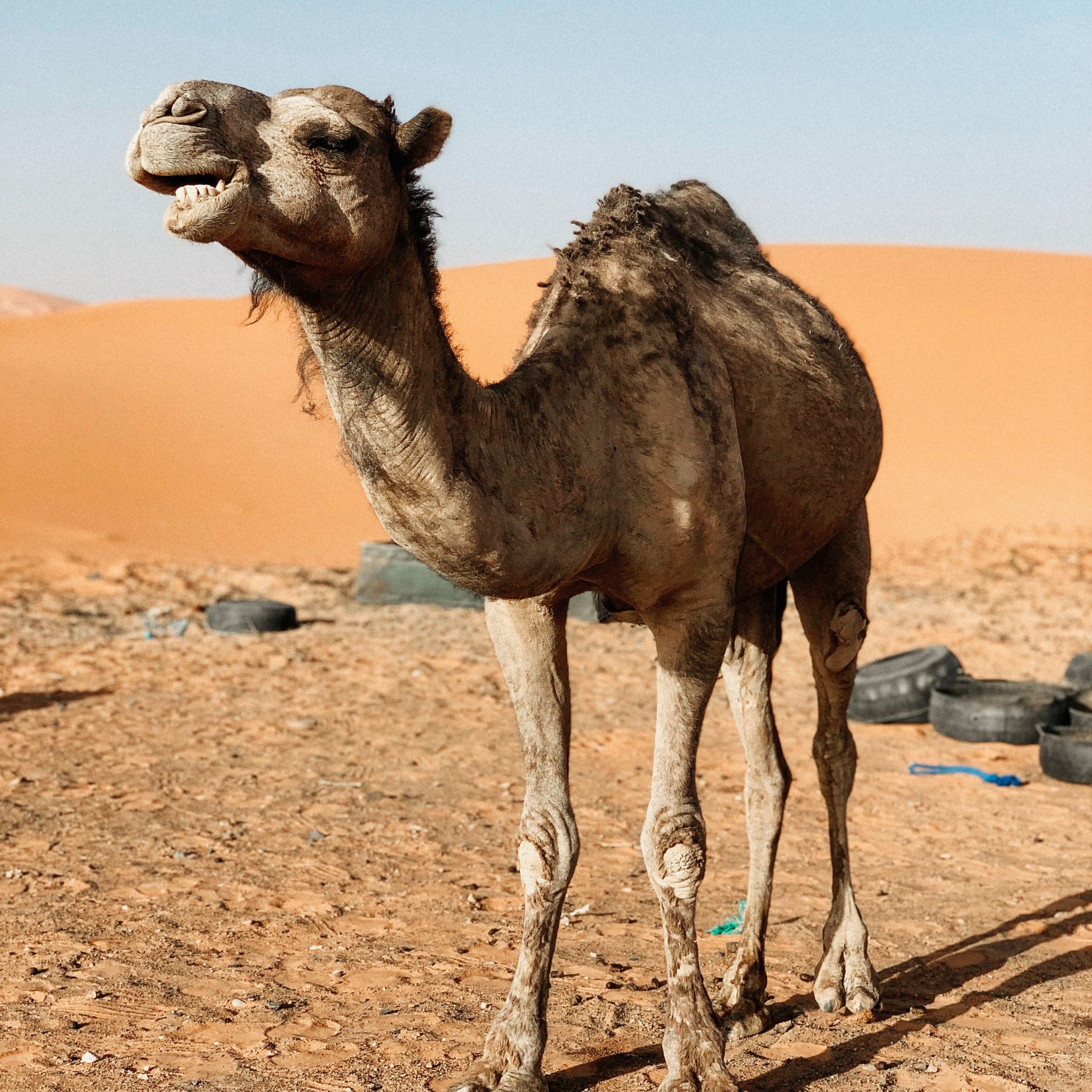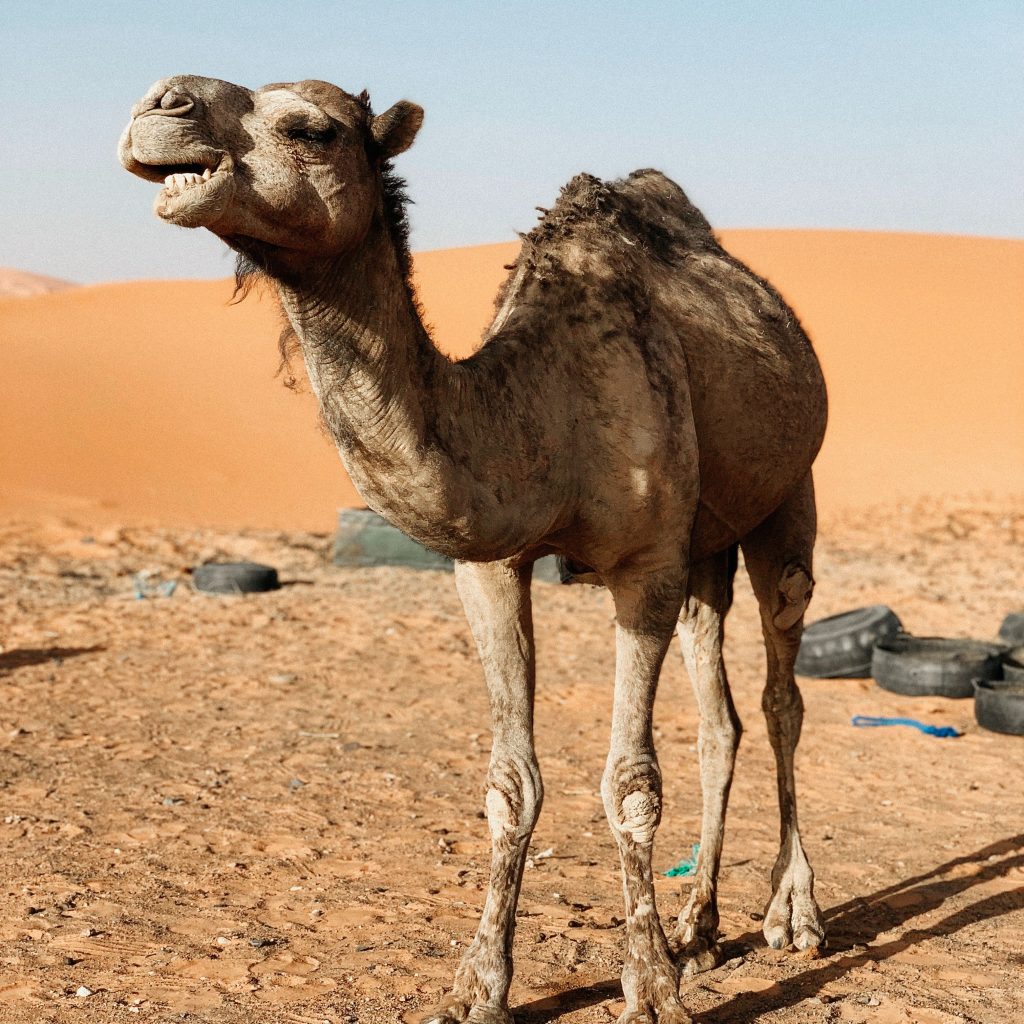 Merzouga – Todra Gorges – Ouarzazate
Start your day freshly in the morning and leave Merzouga for the enchanting Todra Gorges. These limestone river canyons, locally known as wadi, accompany the Todgha and Dades Rivers through the mountains. Hike the cliffs for spectacular views or stroll along the river banks for an unforgettable experience. Next, take a 3-hour drive southwest to Ouarzazate, a rugged city with a beautiful skyline owed to typical red-earth brick architecture. Spend the evening exploring the city and delight your tastebuds with a couscous meal – Morocco's national dish – at one of the local restaurants.
Ouarzazate – Ait Ben Haddou – Atlas mountains- Marrakech
Leaving Ouarzazate in the early morning will give you plenty of time to reach Ait Ben Haddou, an ancient fortified town and UNESCO World Heritage Site. Historically, the small fortress served as a much-needed caravan stop en route between the Sahara and Marrakesh. After taking pictures of the majestic surroundings, head toward Marrakech, crossing the Atlas mountains. The three-and-a-half-hour drive will take you through beautiful landscapes showcasing Morocco's breathtaking scenery.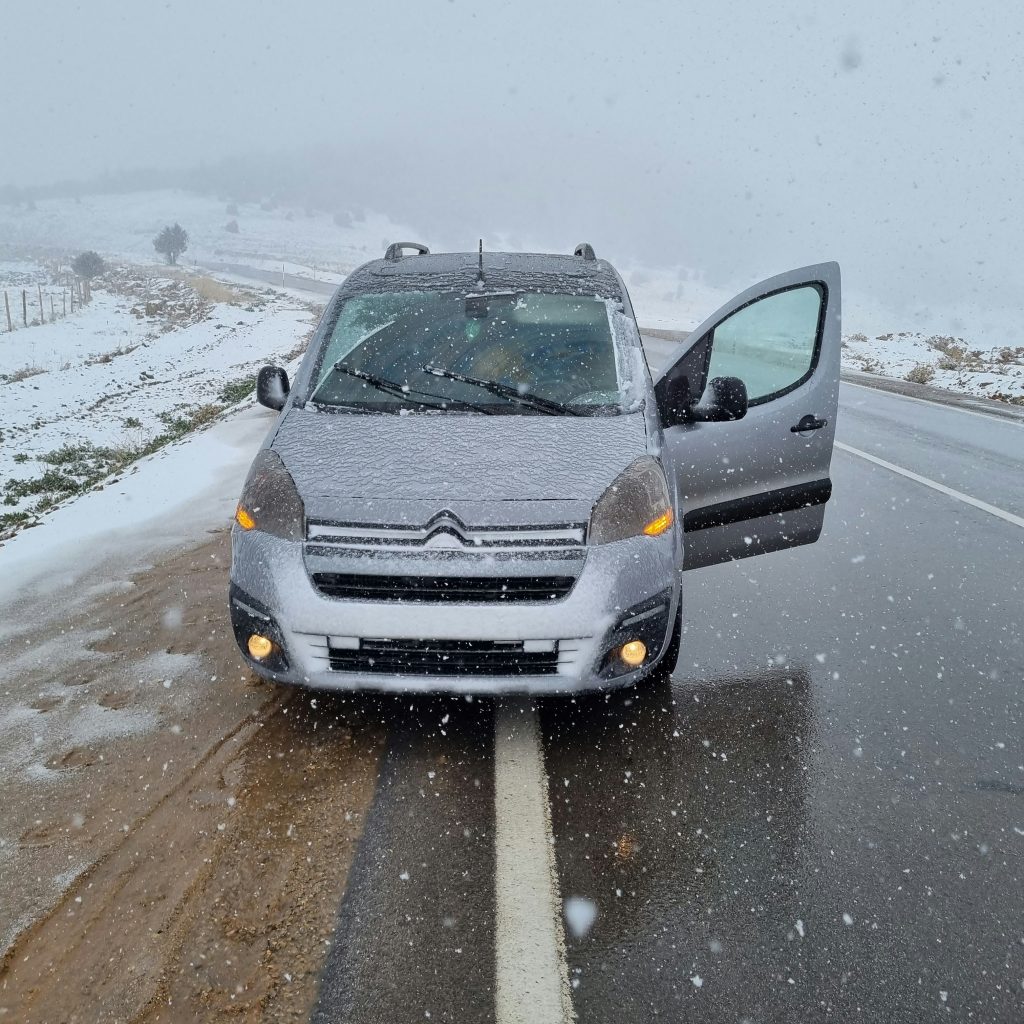 Marrakech
You should reach gorgeous Marrakech in the afternoon. The city is renowned for its vibrant lifestyle, quick-paced local market, and rich culture. Stop for a late lunch near the Jemaa el Fna Square before taking a stroll through the medina – the city's historic heart. Make time to see the superb Jardin Majorelle botanical garden and the solemn Saadian tombs. End the day with a relaxing promenade and a delicious Moroccan dinner.
Depart from Marrakech Or Casablanca
Leaving beautiful Morocco is hard for everyone visiting the giving North African country. As your vacation comes to an end, you can depart from the Marrakesh Menara International Airport, which is only a 15-minute drive away from the city. Alternatively, you can drive back to Casablanca and fly out from the Mohammed V Airport, which serves numerous international destinations.
One week Morocco Itinerary: From Marrakech to the mountains and ocean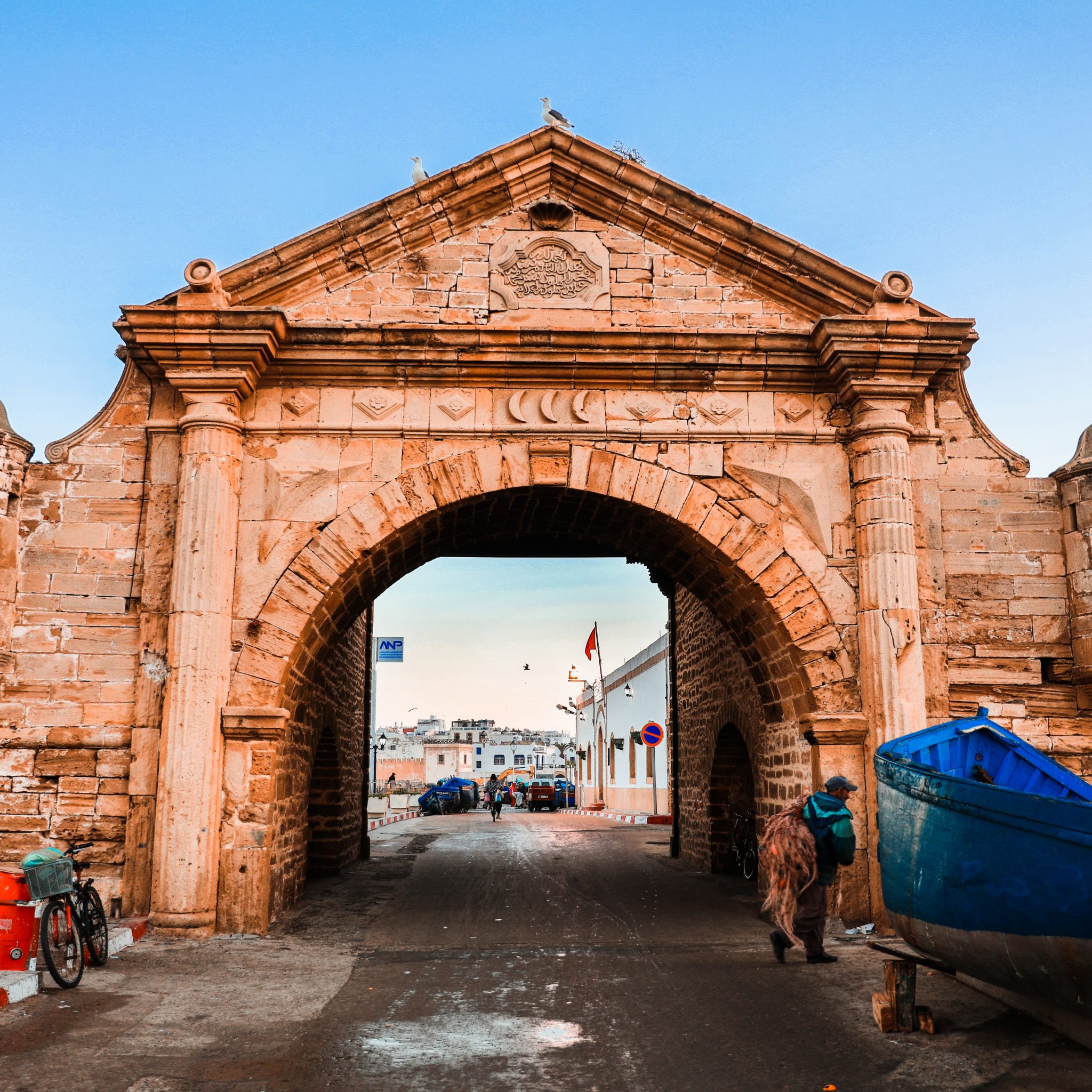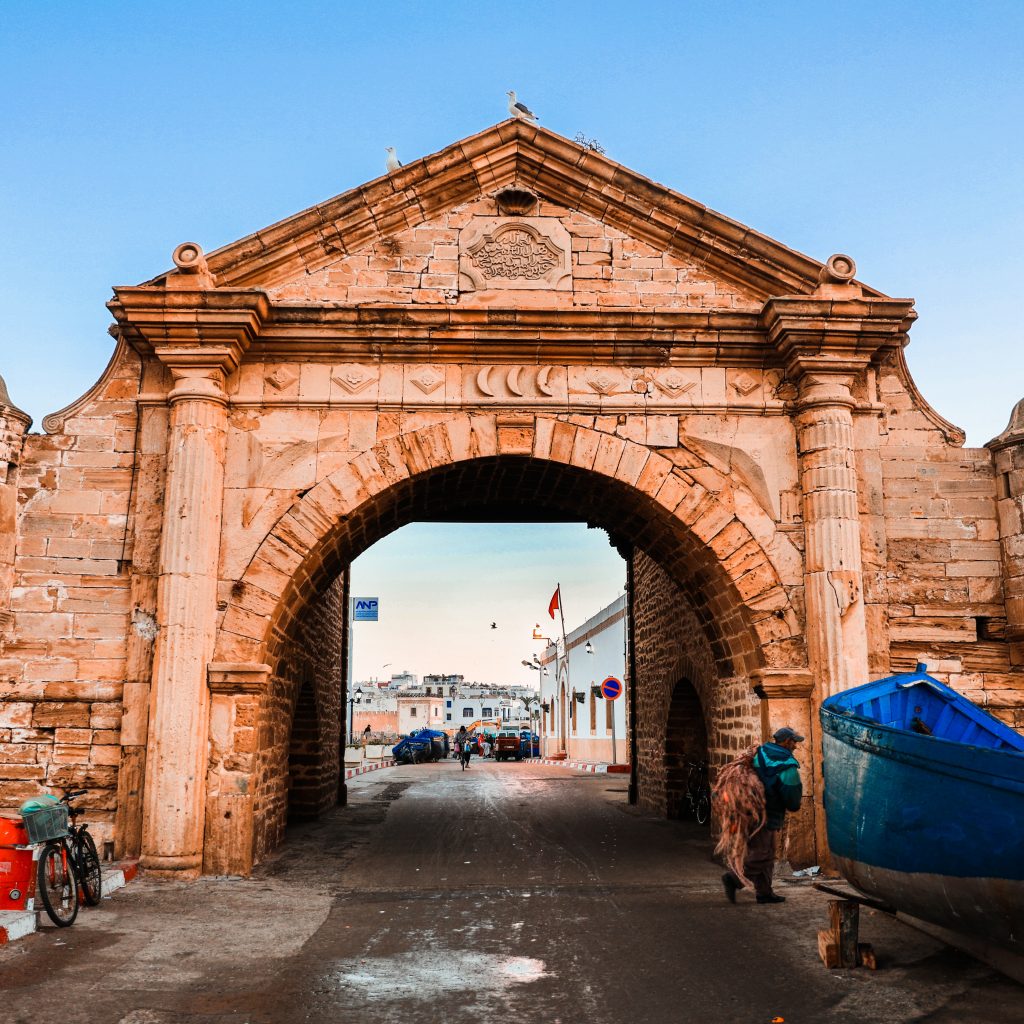 Our last proposal for a Morocco itinerary 7 days will see you visit the popular city of Marrakech and explore ocean-side towns like Essaouira and rustic villages like Imlil in the Atlas Mountains. This circuit is ideal for those seeking to discover as much as possible from richly diverse Morocco at a comfortable pace.
Day 1: Arrive in Marrakech
Start your Moroccan journey in Marrakech. The ancient imperial city is a landmark for Morocco and one of the most-traveled North African destinations. You can reach it from Europe and most countries in the Arab world via air travel. The Marrakesh Menara International Airport accommodates numerous flights and is only 6 km away from the city.
Day 2: Explore Marrakech
Begin your day in the old medina, one of the best-preserved traditional locations boasting a vibrant market with maze-like souks. Walk around the Jemaa el Fna Square, where you can meet locals, haggle with merchants, and enjoy a typical fruit juice from one of the many vendors. Next, head toward the awe-inspiring Jardin Majorelle botanical garden for a peaceful, soul-enriching stroll. Stop for a traditional Tajine lunch at one of the many affordable restaurants. Spend the afternoon visiting the Saadian tombs, a historic royal necropolis, and the impressive Kasbah Mosque. End your day in Guéliz (or Nouvelle Ville), the city's new quarters abounding in Western-inspired amenities.
Day 3: From Marrakech drive to Essaouira
Wake up early to drive from Marrakech to Essaouira. The trip to the Atlantic Ocean is nearly 3 hours long, and it will take you across the country, experiencing Morocco's rural lifestyle and architecture. You can rent a car from Marrakech or opt for a bus ride. The latter is more affordable but may take longer due to the several stops along the way.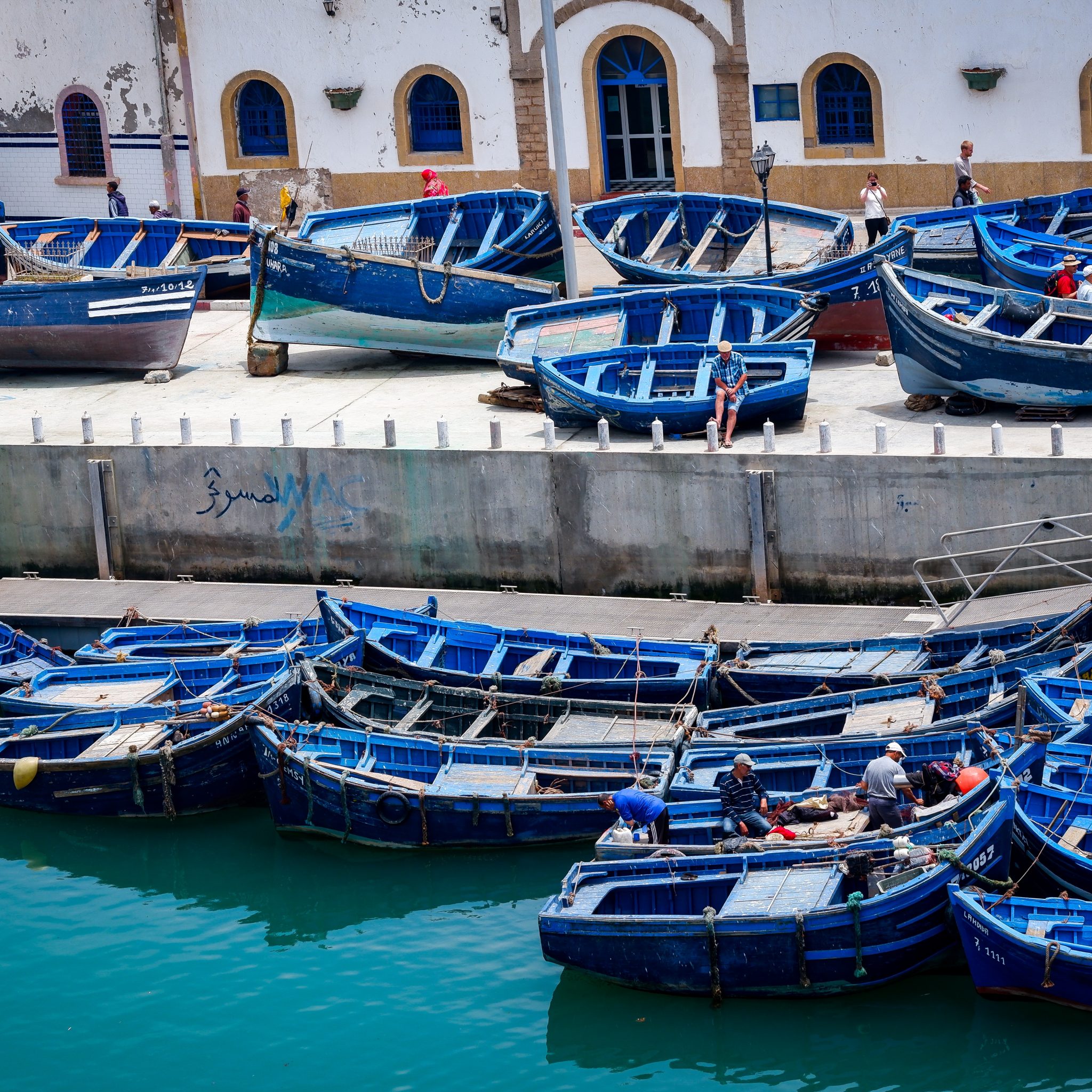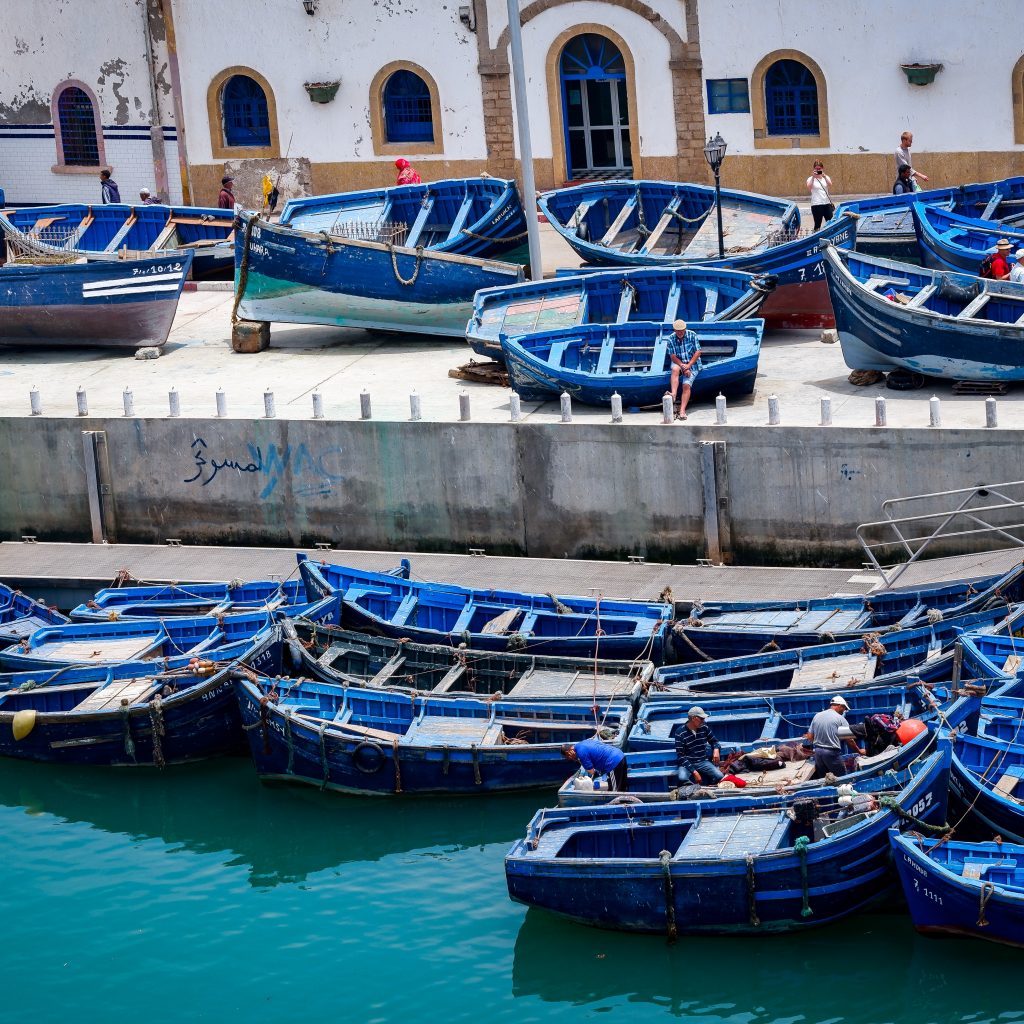 Day 4: Explore the seaside town of Essaouira
Essaouira is a chic little town on the Atlantic coast and a popular spot for water sports enthusiasts everywhere, especially surfers. Take a long stroll along the beach at tide to see the wide, sandy beach triple in size. Explore the town with its small souks, picturesque architecture, and unique vibe. The local restaurants offer a rich menu of traditional Moroccan dishes, including tajines, kefta, and couscous, at downright bargain prices.
Day 5: From Essaouira, drive to the Atlas Mountains (Imlil)
Leave the salty ocean air of Essaouira behind and head for the thinner breeze of the Atlas Mountains. A four-hour drive back inland will allow you to discover breathtaking landscapes and unique sights. You can always take a bus if you did not rent a car in Marrakech. Hitchhiking along this route is also highly popular among travelers, and you may quickly find someone to share a ride to the mountains.
Day 6: Explore Imlil and drive back to Marrakech that afternoon
Imlil is a small Moroccan village with only about 8,000 residents. Yet, it is one of the most visited rural spots in Morocco due to its magnificent scenery and local traditions. The people here are very hospitable and eager to show you around or invite you for a cup of mint tea. Use this opportunity to hire one of the affordable local guides. Sitting at 1,800m above sea level, Imlil is close to Jebel Toubkal, the highest peak in Northern Africa. Its location is a well-known stop for hikers and trekkers venturing into the area. After a delightful lunch in peaceful Imlil, return to Marrakech, only an hour-and-a-half away to the north. Spend the afternoon shopping for souvenirs and taking in the uniquely cultural vibe of the imperial city.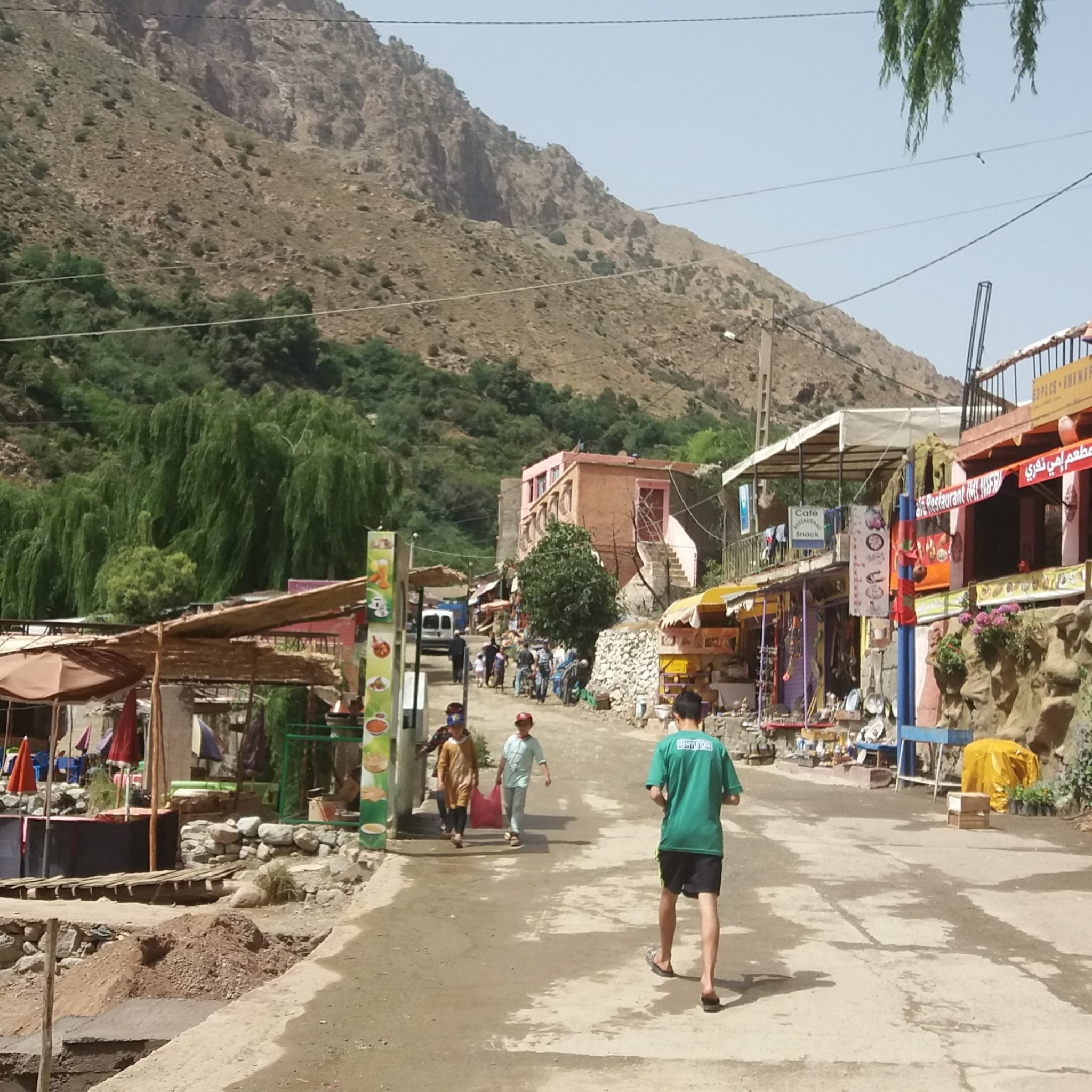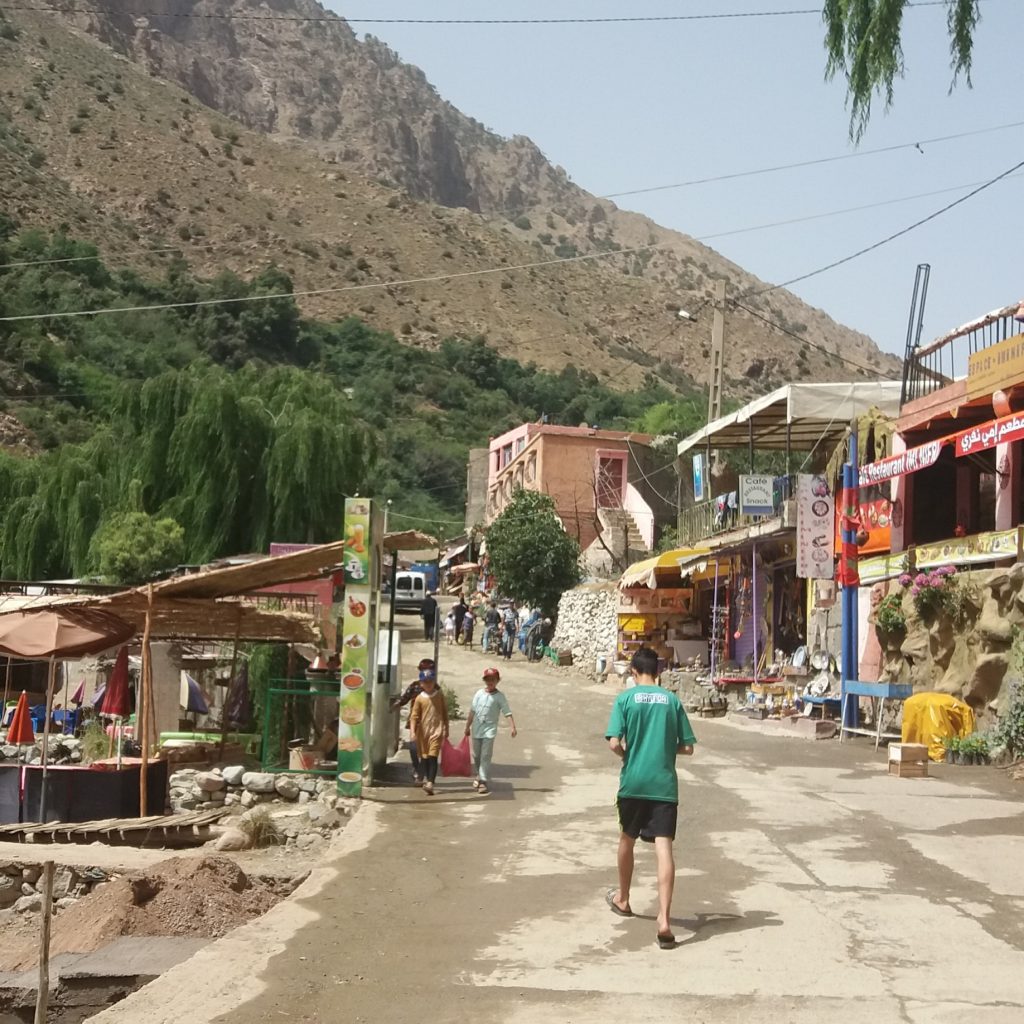 Day 7: Depart Morocco from Marrakech
Leave Marrakech from the nearby Marrakesh Menara International Airport. Alternatively, you can take a bus ride north to Nador and a ferry to Europe. Another three-day bus ride east from Marrakech will take you to neighboring Algeria.
How many days to spend in Morocco?
A week in Morocco is ideal for seeing the most important sights and discovering the rich local culture. Two or three weeks are more than enough if you are looking for a more immersive Moroccan experience.
How many days do you need in Morocco?
Generally, between 7 and 10 days is perfect for visiting Morocco's prominent landmarks and attractions. You get enough time to visit the historic Imperial cities, roam the Atlantic Ocean coast, cross the Atlas mountains, and even see the Sahara desert.
Is Morocco an expensive place to visit?
Morocco is an affordable travel destination for low-budget and mid-range vacations. The country abounds in low-cost accommodation and restaurants, where the value for money is relatively high. Transportation, local guides, and sightseeing spots are also reasonably priced. Those seeking luxurious travel alternatives will find plenty of high-end amenities in Morocco, including five-star resorts, intimate experiences, bespoke services, and gourmet meals at world-renowned restaurants.
Where to Stay in Morocco?
Morocco offers accommodation options for all budgets and preferences. You can have your pick between classified and non-classified hotels. The former provides Western-style comfort standards that most travelers are familiar with. Meanwhile, non-classified hotels are located in the old parts of the cities, delivering a mix of traditional and modern amenities. A popular choice for many people visiting Morocco is the Riad, a cultural landmark of the country's generous hospitality. The riad is generally an older, traditional house built around a beautiful garden, offering a more homely accommodation type. Alternatively, you can always spend the night in city hostels, which are generally low-cost and popular among hardened travelers. Lastly, when traveling to the Sahara desert, Atlas mountains, or ocean-side surfing spots, you can safely stay the night in a campsite.
Where to Stay in Morocco in Marrakech?
Marrakech is one of Morocco and North Africa's most traveled destinations. Unsurprisingly, the city abounds in accommodation spots ranging from economic hostels to high-end hotels. You can book a riad in the old medina close to the city's heart, the Jemaa el Fna Square. If you are only in town for a night, a bunk bed in any of the city's hotels should be a simple and affordable solution. Lastly, if you wish to get to know the city better over a few days in luxurious conditions, consider taking a room at one of the several modern hotels in the town's Ville Nouvelle.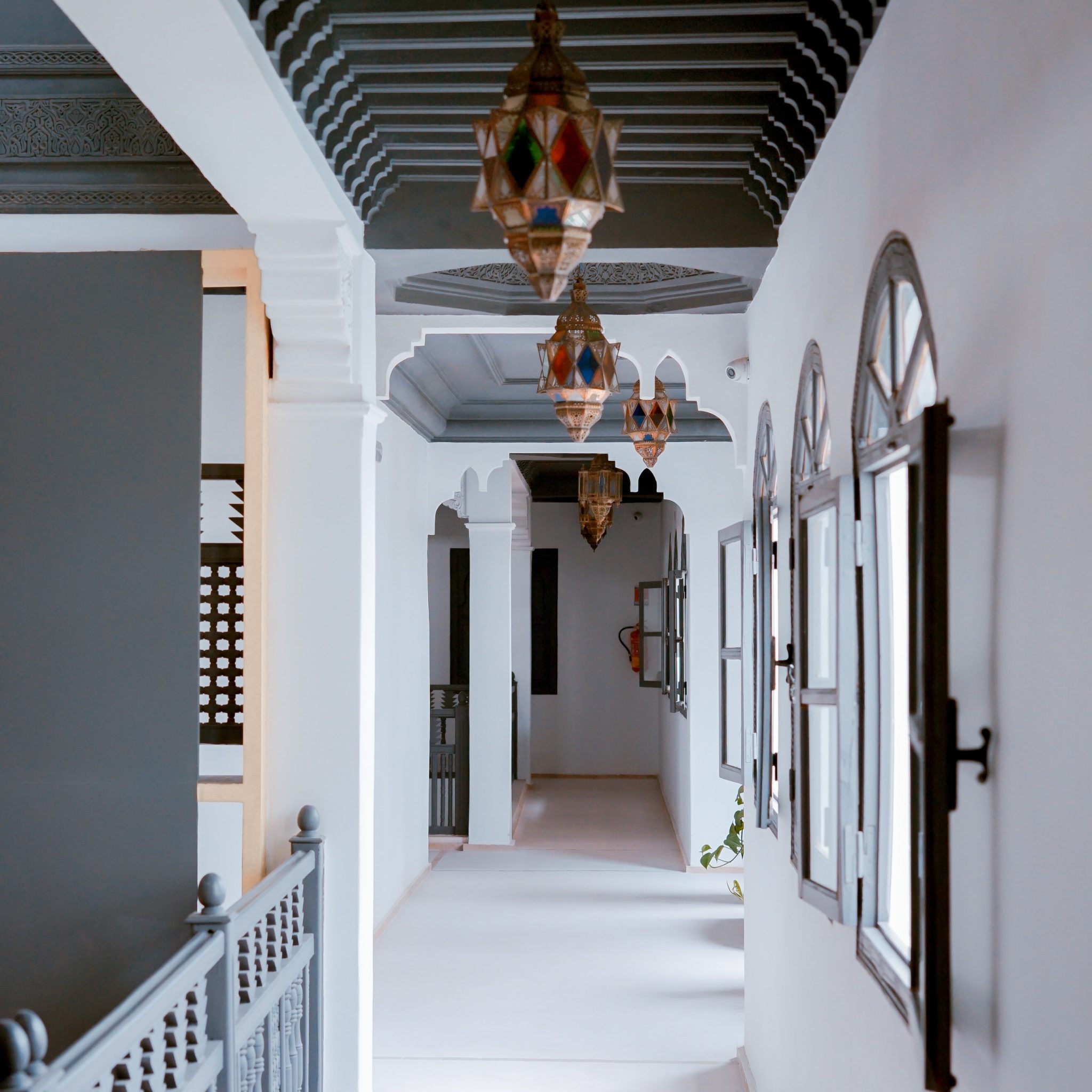 These three itinerary ideas for 7 days in Morocco should help you plan your trip better. Pick one or combine them, depending on your vacation schedule and possibilities. Regardless of your choice, you will get an unforgettable cultural experience in one of the most beautiful and often overlooked travel destinations worldwide.